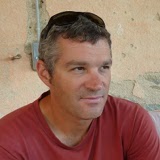 Cluny (France), 2012
Vincent Cremet

Welcome to my academic homepage. I am a former research and teaching assistant at EPFL (left in late 2006).
I am from France and did my scolarship in the universities of Lyon, Nancy and Paris. In early 2001 I went to Switzerland to start a Ph.D. in Computer Science at the Ecole Polytechnique Fédérale de Lausanne.
I received the diploma in late 2006. In my Ph.D. I formalized and proved sound a central part of the type system of Scala, an object-oriented programming language designed by my supervisor Martin Odersky and developped in his Programming Methods Laboratory.

Teaching
At EPFL, I have been a teaching assistant in the following courses.
Compilation

(in parentheses the name of the implemented language). Winter semesters 2001 (FuLL), 2002 (Misc), 2003 (Misc), 2004 (Eins) and 2005 (Zwei).

Programmation IV

(Study of programming paradigms). Summer semesters 2002, 2003, 2004 and 2005.

Concurrency: Languages, Programming and Theory

. Winter semesters 2002 and 2003 (use of the PiLib Scala Library).

Advanced Topics in Programming Languages and Concurrency

(AToPLaC). Summer semester 2003.

Informatique II

. Summer semester 2001 (C++).
Student Projects
During my PhD at EPFL I defined and supervised two student semester projects.
Generating Typing Proofs for Scaletta

. Grégory Mermoud.

Semester Project, June 2005

. (pdf).

Recherche d'information dans un programme Scala

. Roland Tchakoute.

Semester Project, February 2004

. (pdf).
Software Projects
Misc
Last modified : the 14th of August, 2013